in partnership with Think & Grow Rich Mastermind

now available
for instant access
Elevate your Think and Grow Rich game with this Companion Pass to the acclaimed Magazine.
For the first time ever, the world's most prolific leaders will sit down and talk openly about how they actually made their success happen. They will speak about the one thing that unites them all: Think and Grow Rich, the materpiece of Napoleon Hill.
You've probably heard of—or even read—this legendary book before, and you might know that it has propelled countless thousands of avid readers to new heights since its first publication in 1937.
And now, you can read, watch and listen to the most profound and inspiring success stories, learn about these leaders' professional secrets, and glean their most personal insights into the factors of success. You, too, can learn and understand exactly how these Modern Masters have applied Napoleon Hill's timeless wisdom in order to swim to the top.
Today, if you're willing, and with the help of this brand-new, interactive magazine experience, you can learn how to do the same.
100 million copies and 80 years later, it is still changing lives.

Nick Greer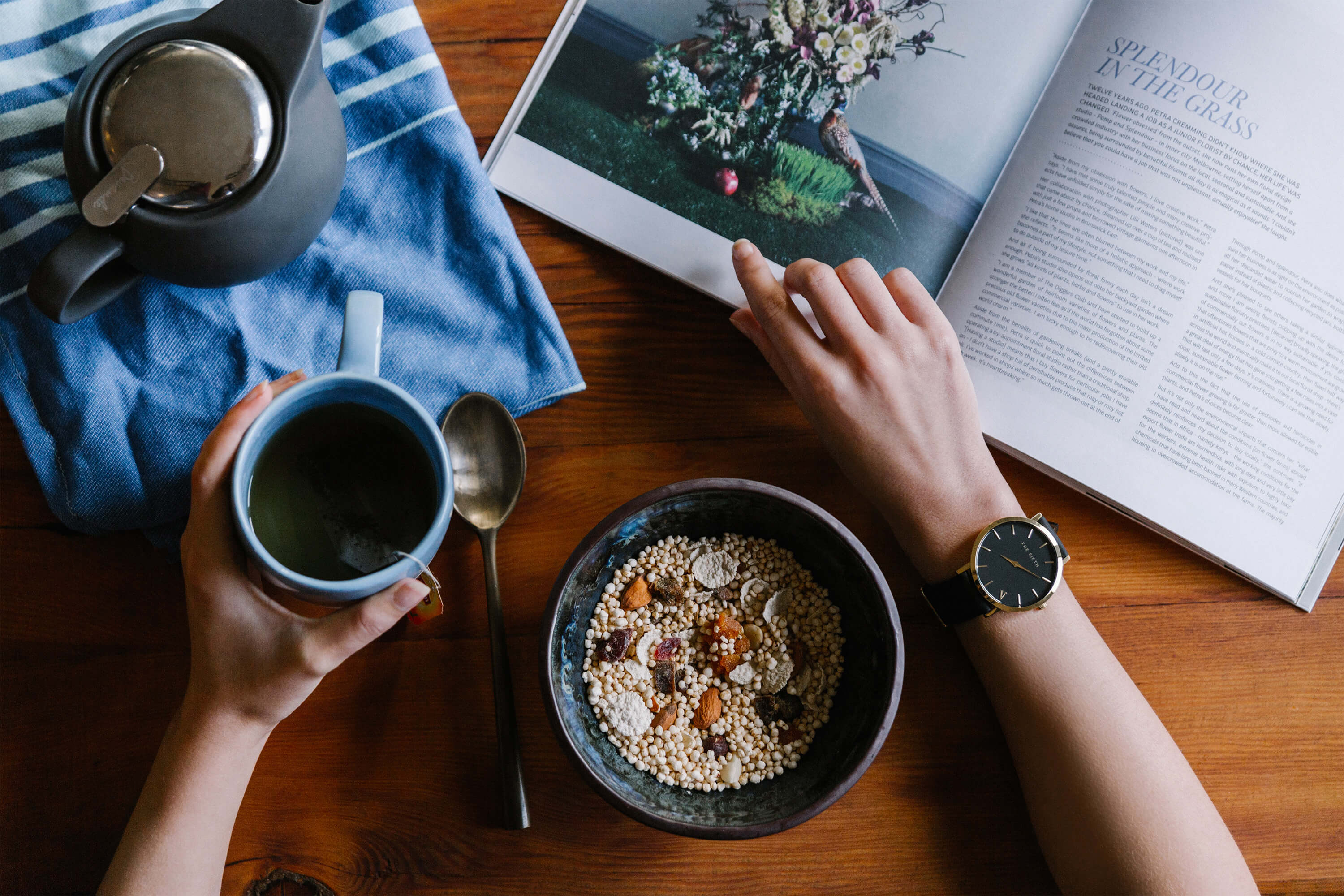 digital magazine /


A brand-new media experience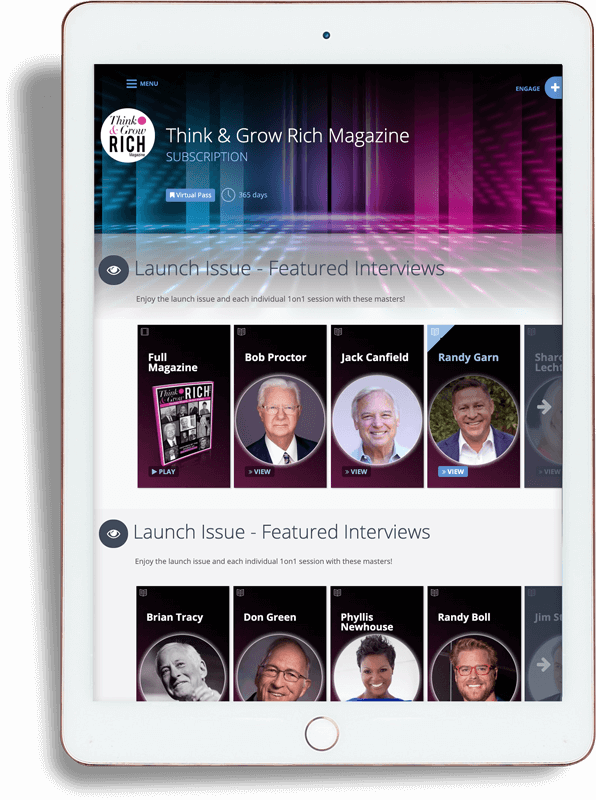 Think and Grow Rich Magazine is a brand-new digital magazine experience, accessible on-demand from any device, centered around Napoleon Hill's famous book.
Each month, a new issue is published that includes:
70+ Pages of interactive content

Each issue is chock-full of exclusive, brand-new content centered around the principles of Think and Grow Rich.

In-depth Articles & Editorials

Carefully curated articles from our editorial team and guest authors, exploring how we can apply Napoleon Hill's teachings to our modern lives.

Exclusive Video Interviews * Mastermind Upgrade

In each issue, we interview today's successful industry leaders, entrepreneurs, and modern thought-leaders on video.

Improvement plan Workbooks * Mastermind Upgrade

Each new issue brings you guides and training resources that will help you study and apply Napoleon Hill's principles.

Exclusive Mastermind Group * Mastermind Upgrade

Join livestream with featured leaders as they answer your questions on camera.
Starting today, you can access every issue as it is published each month, for an entire year. All on-demand at your leisure.
Featured Interviews /

Modern Masters

What do these leaders have in common? They all studied Napoleon Hill's 1937 masterpiece, Think and Grow Rich, and successfully applied its wisdom to their professional—and personal—lives. Learn from them and create your own future!
Plus:
+ Nick Greer + Randy Garn + Jim Stovall + Randy Boll + Kara Goldin + Michael Walding + Janine Shepherd + Tony Giordano
...and many more in each issue!
About the interviews
With your Mastermind Upgrade, you get access to each issue's video interviews with the Modern Masters.
60+ hours of incredible interviews

Each issue brings you new successful leaders to learn from and grow with.

On-demand Video

All interviews are on camera. You can browse+watch them anytime on-demand.

40+ Minutes each

Each interview is at least 40 minutes long. We go deep.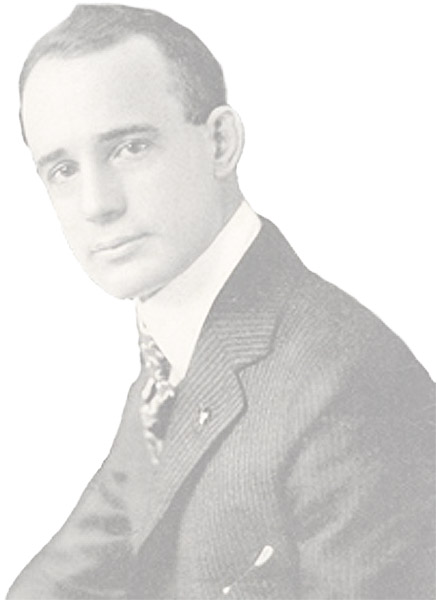 About /

Napoleon Hill

Considered the father of the personal success movement, Napoleon Hill and his masterpiece Think and Grow Rich have been credited by thousands of famous entrepreneurs with setting them on a path for incredible success.

Napoleon Hill dedicated his life to a single mission: to interview the most successful people that ever lived and share their life lessons with the world. In doing so, Hill interviewed more than 500 people over a 20-year period, and found common traits in their success stories. In 1937, he published his findings in Think and Grow Rich, which included fourteen principles known as the "Philosophy of Achievement".
The book became an instant classic and has since sold over 100 million copies worldwide.
Over the past 80 years, countless celebrities, business icons, sports legends, pop stars, and thought-leaders from all walks of life have given credit to Napoleon Hill's masterpiece.
At one point in their career, these individuals learned and applied the principles taught by Hill, and it sparked business ideas, inventions, social causes, career defining performances, championship teams, and even hit songs. Once discovered, nothing got in the way of their new-found knowledge to create anything they set their minds to.
Think and Grow Rich Digital Magazine
The Think and Grow Rich Magazine is a brand-new, monthly publication centered around Napoleon Hill's book and its groundbreaking teachings. We explore how today's industry leaders, entrepreneurs, thought-leaders and sports icons have been influenced by this iconic book, and how they have applied the book's principles to their own professional and personal lives—allowing them each to achieve the unmatched success story they've never dreamt of before.
In this interactive magazine, we make these insights available to you as in-depth 1-on-1 video interviews with these successful leaders. We annotate each interview with carefully curated articles, editorials, workbooks, supplementary resources, and video commentary from guest authors and people close to the leaders we interview.
This novel format, this rich, digital magazine will enable everyone to learn by example, to truly understand Napoleon Hill's principles at their very core, and to finally apply the secrets found in the book to their own lives, so they can make their dreams come true—whatever they may be.
Today, you can have it all. Here's your shot at success.


Reviews /

What others think
I will do everything possible to help you and our friends of Napoleon Hill to achieve the extraordinary things that are possible for them.

Brian Tracy
I love your energy and your commitment to making a difference in the world with Think and Grow Rich Magazine.

Jack Canfield
I want to congratulate you on what you are doing. I think it's overdue—it's past due.

Bob Proctor


Think & Grow Rich Mastermind

now available
for instant access
Elevate your Think and Grow Rich game with this Companion Pass to the acclaimed Magazine.
Features
The Mastermind Companion Pass is only available on LeaderPass, your virtual platform for world-class content.
Video Interviews

8+ video interviews with each new issue of the magazine, 40+ minutes each

Bonus Special Editions

Published occasionally, each centered around an entrepreneurial topic such as Finance, Marketing, or Leadership

Improvement plan Workbooks

Monthly guides and training resources to help you study

Exclusive Mastermind Group

Join livestream with featured leaders as they answer your questions on camera

Monthly Video Summaries

View the top highlights from each video interview condensed into bite-sized summaries. A shortcut for the very busy.