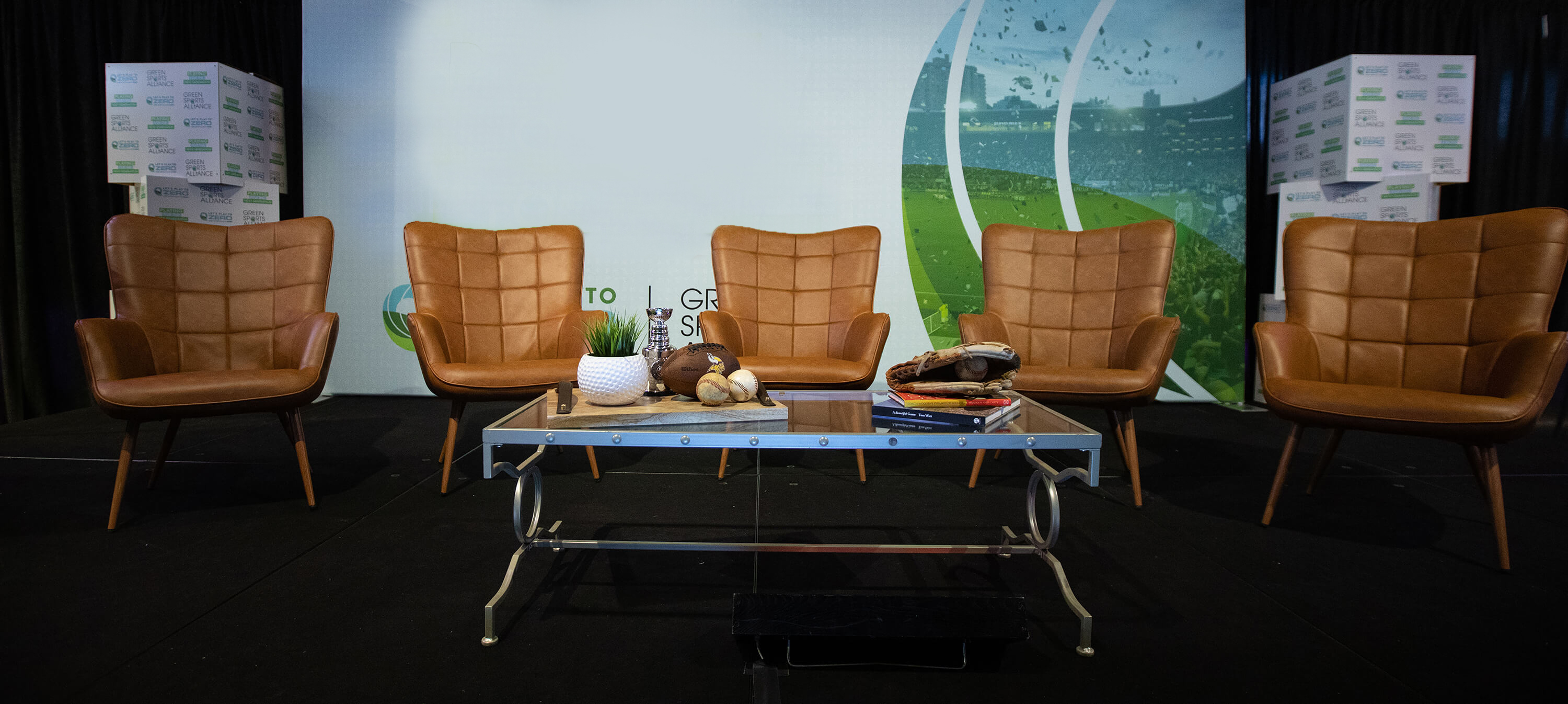 Join us in Playing for the Next Generation as we leverage the power of sports to promote healthy, sustainable communities where people live and play.
featuring
Roger McClendon
+

Dave Winfield
+

Tony Sennah
+

Federico Addiechi
+

Jackie Ventura
+ many more
The annual Green Sports Alliance Summit is a gathering of the largest and most influential leaders in sports.
The Summit is not only a way to unite in an effort to increase sustainability, but also to demonstrate practices to help fans, athletes and anyone in the sports community to be more knowledgeable about how they treat the planet.
The sports industry is in a unique position where the impact of social and environmental changes are met with a large scale audience. By utilizing this platform, the ability to decrease the carbon footprint of some of the largest public spaces and communities becomes a less daunting task.
This year's summit is to Play to Zero and the goal is to create a more sustainable future for the next generation.
Absolutely amazing content throughout! Every organization prioritizing sustainability should plug in, learn, and contribute.

Valerie Ryan, Associate Director, ESPN X Games
Presenters
Experts in their field discuss the importance of sustainability and how they are working toward social and environmental change in an effort to Play to Zero.
...plus 30 more!
The 2022 Green Sports Alliance Summit theme of 'Play to Zero' focuses on positive environmental and social sustainability impact at the heart of our collective work globally in the sports and entertainment industry.

Roger McClendon, Executive Director of Green Sports Alliance
Sessions
26 Sessions

Hear what experts have to say about the importance of sustainability in sports on and off the field.

Bonus Content

Dive deeper into topics you're interested in by watching one-on-one interviews with the speakers.

Preview

Get a taste of this course for free.

No credit card

required.
Get the Preview
1
Corporate Perspectives on Purpose, ESG and Sports
This session features senior leaders from the corporate world who are focused on corporate purpose, ESG and sustainability. They will provide a context of how companies are navigating this rapidly changing business environment and offer insights into its relevance for the sports sector.
2
Global Reach and Scaling Impact
As a global organization, FIFA's 2020-2023 vision is built around 11 goals, one is to 'deliver sustainable tournaments.' In this one:one conversation, we will explore FIFA's approach to sustainability and how it is looking beyond the pitch to deliver social, financial and environmental returns for the wider community.
3
An Overview of Importance of Play to Zero and Our Limitless Potential
Roger McClendon, Executive Director of Green Sports Alliance, gives an overview on what the Green Sports Alliance 2022 Summit is all about and what it really means to "Play to Zero"
4
Collaboration to Scale Sustainability Throughout the Region
The Minnesota Sustainable Sports and Events Coalition brings together an entire ecosystem of teams, venues, event professionals to share best-in-class ideas and collaborate in new and interesting ways. Learn about the coalition's value in addressing shared sustainability challenges and opportunities.
5
From the Pitch to Investing in Young People and the Community
Tony Sanneh, St. Paul native, created The Sanneh Foundation while a professional soccer player. He recognized soccer had a unique potential to create positive social change for youth. In this one:one conversation, we will discover the importance of his life's work to empower youth and improve community well-being through culturally responsive and equitable access to programs, opportunities, and environments.
6
Leadership and Investing in Sustainability
This is a unique panel of CEOs who are leading their companies through transformation, innovation with a focus on purpose and sustainability. Get an inside perspective from these executives on what it means to be a leader in today's changing business landscape.
7
Lifecycle of Operations - ROI of Sustainability, Scaling Impact and Moving the Industry Forward (Venue Perspectives)
Sustainability is a central guiding principle when operating today's stadiums and arenas. While it requires investments, this session will explore how sustainability is a growing priority, what those returns on sustainability investment are, and how sports is scaling impact beyond the venues.
8
Sports Philanthropy on Purpose: A Chalk Talk with Hall of Famer Dave Winfield
Hall of Famer, Dave Winfield, shares his drive and passion for a more sustainably conscious future.
9
ROI of Partnerships: 360º Partnership and Scaling Impact by Disrupting Your Own Business
This legacy company is disrupting its own business and sees its sports sponsorships as an opportunity to invest in and scale sustainability. Dow and LPGA will offer their insights into the ROI of this key partnership that go beyond the sand traps and the golf course.
10
ROI of Investing in Women and Why This Matters
This conversation will dive into the heart of why investing in women's sports matters. With the 50th anniversary of Title IX, we are moving into a long overdue era for women as athletes and as leaders through the lens of equity and market power.
11
The Zero-to-One Moment: Setting the New Standard for Sustainability in Sports
In this one:one conversation with Aspiration's CEO, we will explore how the company views its commitments to the climate crisis and why it is investing in sports sponsorships. How are these innovative initiatives designed to raise awareness and engage customers in making those small changes that collectively have big impacts.
12
Managing What You Can Measure - The Play to Zero Playbook
This session will give you a quick overview 'Play to Zero Playbook,' a platform and sustainability toolkit. Green Sports Alliance's partnership with U.S. Green Building Council's Arc, Blue Strike Environmental and Rubicon launched the platform to guide, measure and monitor your progress towards net zero energy, net zero water, zero waste, and a resilient future.
13
Your Future Fans Care About Sustainability
Sports Innovation Lab is an organization to help you identify and understand your fans. The sports landscape is changing and so are its fans. SIL will share new research on how to connect with and engage your future fans. And, yes they do care about sustainability.
14
Beyond Logos: Activating Sponsorships Through Sustainability
WM and the PGA Tour have a long-standing partnership built around sustainability. This session will explore the importance of using sponsorships to activate sustainability initiatives. In addition to the value this delivers to partners, when sustainability requirements are built into sponsorships and contracts, there is a ripple effect that scales impact and positively influences vendors, communities, and fans, and of course, the environment.
15
Lifecycle of Operations: Evolutions of the Sustainability Cycle
Sustainability is more than a journey - it's a commitment. We are entering the next evolution of the sustainability cycle with best-in-class practices to meet expectations to measure progress and be transparent about where you are in meeting sustainability goals.
16
Innovations and What's Next for Your Fan Gear
It begins with an idea, then a connection, and now a reality. Meet the young innovator and entrepreneur behind the future of your fan gear. And see how an NFL team saw the possibilities and took a chance on a sustainably conscious way to wear your favorite team.
17
Maybe Zero is Not Enough (Leveraging Assets for Greater Impact): What It Means to be Climate Positive
The ocean is vast, wide and the scene of our climate crisis. Those who race on the ocean recognize perils but also the promise of leveraging their assets and their voices to move from zero to positive.
18
Voices of the Next Generation
GSA in partnership with Knit is proud to share the finding of new research on the Gen Z sports fan. It's hot off the press! You will hear the voices of young people on what's important to them, their expectations for businesses and what they expect of the sports industry - venues, teams, leagues and players.
19
The Time is Now - Perspectives on Environmental Justice
A conversation about environmental justice must include a sense of urgency as we face the climate crisis. What are those considerations that bring environmental justice to the forefront and that can and should be embedded in sustainability initiatives? How can the sports sector lead in new and innovative ways?
20
Global Impact - One Community at a Time (Leveraging Your Brand Equity and Connecting Your Fans to Your Sustainability Initiatives)
What does a global organization and a local team have in common? They each have a vision and commitments to capitalize on their brands to drive sustainability. Whether it's operating in a zero waste environment and building sustainable practices into their operations or leveraging their brand equity to engage and catalyze fans, get the latest insights from FIFA and the Miami Heat.
21
ROI of Sustainability and Sponsorships
Sustainability is a core tenet in sponsorships and partnerships. Gain insights into how owners are prioritizing sustainability in new design construction and in renovations/retrofits. How does this connect with the bottom line, changes in the market and opportunities for innovation and fan engagement?
22
The Value of Partnerships Built on Sustainability
Discover the future of sports and entertainment partnerships as companies shift to investing in the long-term of sustainability. Find out what makes the partnership deliver on its sustainability promise with Ball Corp. and its partner, Kroenke Sports, the ownership group of Ball Arena, SoFi Stadium, Los Angeles Rams, and Premier League's Arsenal FC.
23
Urgency and Feasibility of Getting to Zero and Beyond
There are many roads to zero and beyond. This session will take a quick dive into the urgency at hand and explore the feasibility to get to zero. And, yes, it's possible, it's doable, learn how it's done.
24
Growing the Game/Growing the Business/Sustainability a Priority
How do you grow the game and grow the business at the same time prioritize sustainability? Discover the innovations in thinking about hockey and ways to broaden its reach beyond today's fan base.
25
The Imperative of Focusing on Mental Health
A long overdue aspect of professional well-being and achieving one's highest potential is the realization that mental health is of singular importance. Join these two young entrepreneurs and innovators to find out about their approach to mental health and how they are engaging athletes, teams and leagues.
26
Next Generation: Working with Kids, Sports & Sustainability
The next generation is active, engaged and cares about sustainability. This one:two conversation will explore how the Seattle Seahawks and Lumen Field are working with young people to build the next generation of fans, athletes and leaders. Joining the conversation is a high school sophomore, now a GSA ambassador, who is leading sustainability initiatives with his golf team and beyond.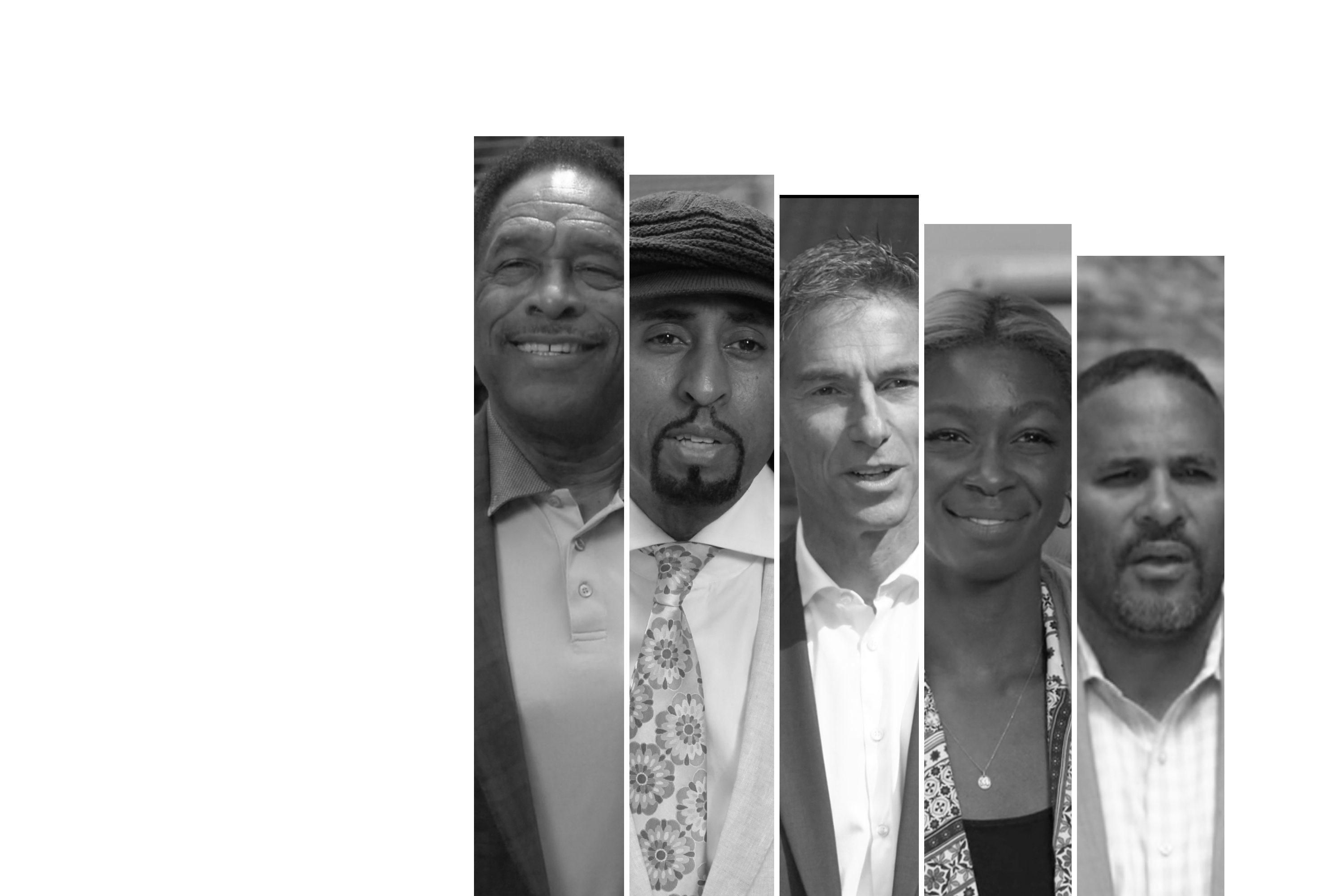 Plus /


Green Sports Alliance Bonus Content

Buy your Virtual Pass today, and you'll receive bonus one-on-one interviews with speakers like Dave Winfield, Jackie Ventura, John Walker, Mikaela Brewer and more.
Reviews
With this 12th rendition of the Summit, we have clearly seen the conversation evolve from a strong foundation rooted in energy, water and waste management toward meaningful, holistic. And scaled climate action aligned with our Play to Zero platform.

I also really greatly appreciated the continued and sustained focus on diversity, equity, inclusion and climate justice in sport. Also, the networking, food, tours and backdrop of U.S. Bank Stadium was superb!

Jason Twill - Director, World Cup Program, Qatar Foundation
I think it is really really important that we are more mindful about what we serve, how we serve it, and what's left afterwards.

Alison Birdwell - Aramark Sports + Entertainment
When you're bringing together hundreds of thousands of people every year, you have the ability to build climate change fighting actions into those experiences.

Andrei Cherny - CEO, Aspiration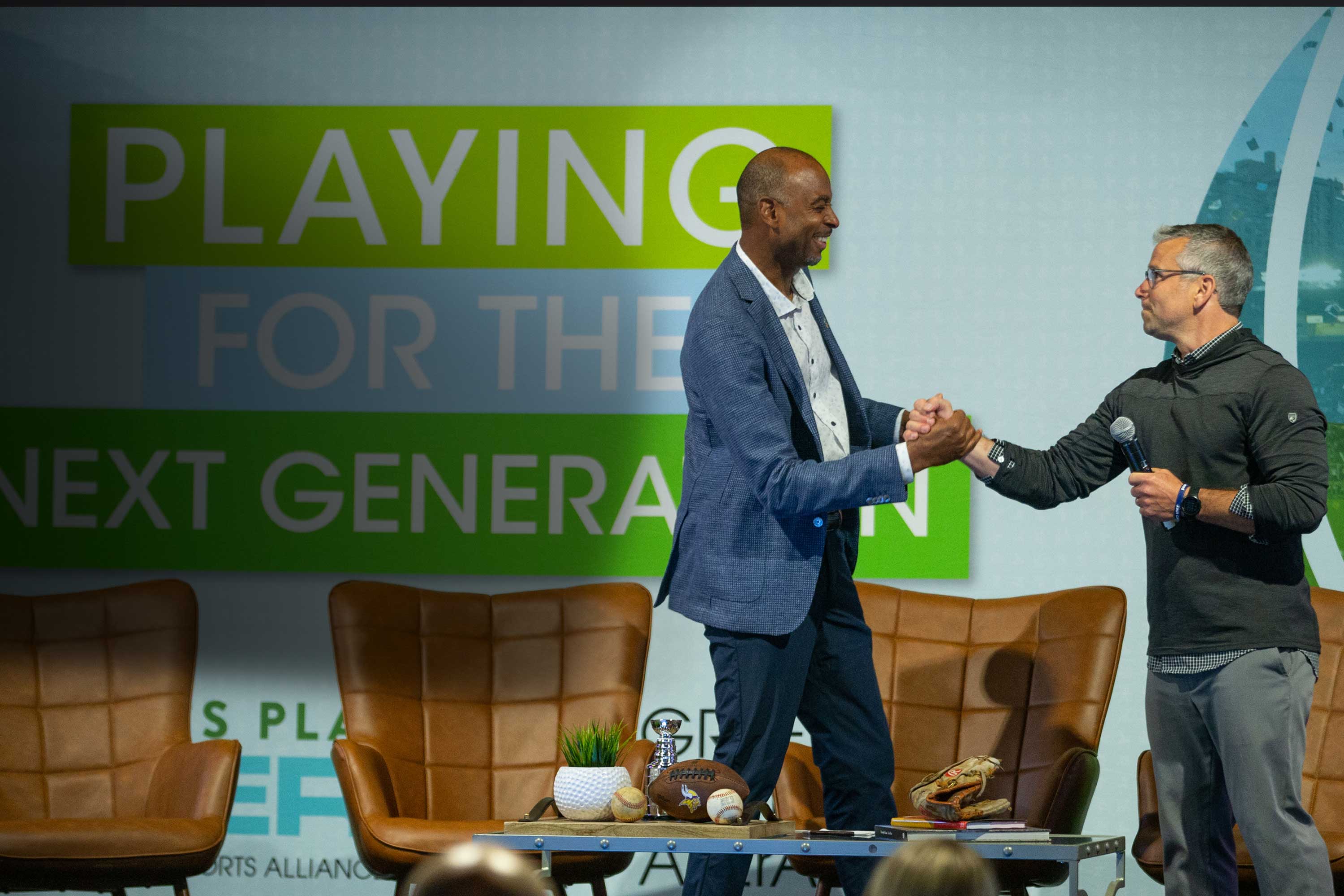 Features
Couldn't make the Green Sports Alliance 2022 Summit? Now you can watch the entire event on LeaderPass.
1 year of on-demand access

Stream all content on any device in brilliant HD for a full year

Take Notes & more

Notes & more LeaderPass features in your personal account

Bonus Pass

Dive deeper into topics you're interested in by watching one-on-one interviews with the speakers
Pricing
A Virtual Pass provides access to the event for an individual user.